interaktiver touchscreen | showcase: emc
²
•
auftraggeber/
client
:
emc²
• t
echnischer partner/
technical partner
:
ict gmbh, berlin
•
art des projektes/
project
:
messepräsentation bei der cebit in hannover/
exhibition presentation at cebit in hannover, germany


•
beschreibung:

• interactive anwendung mit der kompletten produktpalette vom emc²
• einseztung von senkrecht montierten touchscreens auf basis von plasmabildschirmen um dem standpersonal eine natürliche gesprächsführung auch mit mehreren personen gleichzeitig zu ermöglichen
• präsentationsscreens mit selbstablaufenden inhalten
• möglichkeit für die messebesucher durch die interaktive anwendung zu navigieren
• im anschluss an die messe eine umsetzung für die präsentation der anwendung auf dem laptop für emc² in deutsch, englisch und italienisch.

es musste nicht nur eine für technische laien leicht nachvollziehbare sondern gleichzeitig eine optisch sehr reizvolle umsetzung gefunden werden, die das standpersonal beim ersten kundenkontakt auf der messe unterstützt und gleichzeitig eine auf die bedürfnisse des emc²-kunden angepasste gesprächsführung erlaubt.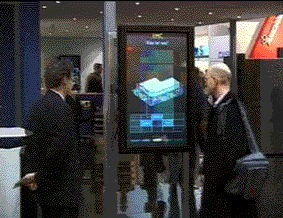 description:

• interactive application of emc² products
• use of vertically-mounted plasma touchscreens in order to allow simultaneous communication between numerous visitors and emc² exhibition personnel
• presentation monitors with self-running contents
• possibility for exhibition visitors to navigate through interactive apllication
• conversion of exhibition presentation to an emc² laptop-application in german, english and italian
a good, light solution had to be presented to leymen and at the same time, it had to be optically refreshing, support

the
emc² personnel in their first contact with visitors and serve the needs of the emc² clients.


programmierung: leslie morris

interaktive anwendung/i
nteractive application: anklicken:
srdf
(spielt mit dem shockwave player from macromedia.com)