video installation | showcase: artist stefan hoenerloh
• künstler/artist:
stefan hoenerloh

• idee/idea:
bünck+fehse

• standort/location:
"tagebau", rosenthaler strasse 19, berlin-mitte, germany

• art des projektes/project:
teil des/as part of the XXI. world congress of architecture UIA berlin

• präsentiert/presented:
july 20th-30th
• t
echnischer partner/
technical partner
:
ict gmbh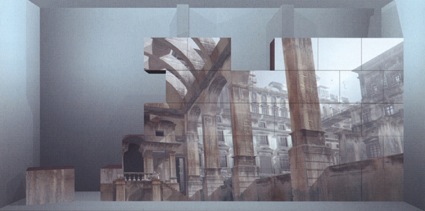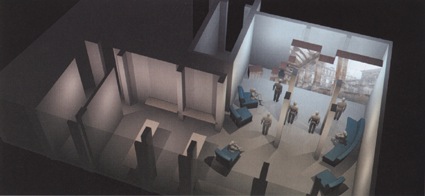 •
beschreibung:

"verführung" - ist der titel des gemäldes von stefan hoenerloh, das als grundlage für die gezeigte videoinstallation dient.
seine bilder beschreiben eine imaginäre stadt, die nur auf den ersten blick an italien erinnert. doch in den häufig extrem
verschachtelten innen- und aussenräumen mit einem verwirrenden wechsel der ebenen tauchen auch morbide berliner
oder new yorker motive auf.

diese fiktive architektur hoenerlohs setzten bünck+fehse in eine bewegte 3d-visualisierung um. so kann der betrachter auf
einer raumholen wand aus monitoren in einen ausschnitt der hochkomplexen, imaginären stadt eintauchen.
diese digitale, virtuelle variante einer vedute erlaubt eine neue erfahrung von raum, zeit und architektur.


• description:
"seduction" is the title of a painting by stefan hoenerloh which forms the basis for the presented video installation.
his paintings describe an imaginary city and are reminiscent of italy, but only at the first glance. in his sometimes interlocking
interiors and exteriors with a confusing changing of levels one can recognize morbid motifs from new york or berlin as well.

hoenerloh's fictive architecture has been translated into a moving 3d-visualization by bünck+fehse. a complete wall of screens
allows the observer to enter into a part of this highly complex, imaginary city. the digital, virtual variation of a cityscape enables
us to experience space, time and architecture in a new way.